This entry was posted in General, Royal Reactions, Sports.
WARNING: Baseball-related post. Yes, I made some graphs. I love making graphs.
In just over a week, pitchers and catchers will report and Spring Training will kick off in earnest. Most post-seasons for Royals fans like myself are black holes of nothing while we speculate on who might possible break out next year and bring the team back into contention.
So, um… Yeah, this off-season was a little different. Really, the last three years have been different. Having a winning, relevant team is a lot of fun.
Of course, that doesn't mean we can' ten gave in rampant speculation. Only, now the focus has shifted a bit. Obviously, the core of this team is all coming back, so they'll run away with the AL Central and cakewalk back into the World Series. That happens a lot, right?
Of course not.
But, it's no fun to think about how things might go wrong this year, so let's examine the time that most reasonable people expect it all to fall apart. 2018.
For those of you who don't follow the Royals, 2018 is the year everybody except the water boy becomes a free agent and the team is expected to slump while waiting for the next batch of minor leaguers to become awesome.
It's okay. Nobody wins forever, right?
Well, it wasn't forever, but for a decade and a half, it sure seemed like the Atlanta Braves wouldn't die.
To recap: After being one of the worst teams in baseball in 1990, Atlanta ended up with one of the best records in 1991. Jack Morris showed Madison Bumgardner how a real man puts away Game 7 by throwing 10 scoreless innings, and then the Braves went back to sucking. Oh, no, they didn't. They went to the playoffs for the next FIFTEEN YEARS.
I think Dayton Moore may be inclined to follow suit. He was there for a decent chunk of that crazy run.
So, how did the Braves maintain such a juggernaut?
Of course I have a chart. Here is how the overall Wins Above Replacement (WAR) was distributed for each season that Atlanta went to the playoffs.

A few notes about this chart:
– Purple are players that were in the system when the Braves run started
– Blue are players who came up from the system as the years rolled on
– Black are free agents, or guys they traded for
– Red is Greg Maddox, because he's earned it
– One more note: I'm only tracking players who contributed 3 or more WAR in a season at least once.
So, how did the Braves start winning?
The homegrown talent started to contribute in significant ways: Tom Glavine, David Justice and Ron Gant were all drafted by the Braves. John Smoltz was a savvy trade pickup who hadn't done anything in the majors before coming to Atlanta.
Key free agents provided a needed boost: Terry Pendelton, Otis Nixon and Charlie Leibrant all contributed to those early teams.
You can find some parallels with the Royals here, though the team as currently constructed relies heavily on outside help when it comes to pitching. Having Glavine and Smoltz at the start of their careers would be nice.
Now, more importantly: How did the Braves keep on winning?
Greg Maddox
Seriously. Maddox was already a Cy Young winner with the Cubs when the Braves signed him. This is an impossible scenario to replicate in today's game. Even the Dodgers couldn't keep Zack Grienke around for more than two years, and they wipe their asses with Time Warner's cash.
More homegrown talent. I'm just going to list some guys you might have heard of here.
Chipper Jones, Andruw Jones
Javy Lopez, Kevin Millwod, Rafael Furcal, Marcus Giles
John Smoltz the closer
Key free agents/mercenaries: Fred McGriff, Kenny Lofton, Brian Jordan, Gary Sheffield, J.D. Drew
As you can see, the tomahawks did a good job of replenishing from within. Money helped keep the best guys into their free agent years, as well.
But, man does it help to have a Tom Glavine, John Smoltz and the Jones boys in your system.
Now, how have the Royals teams been constructed so far?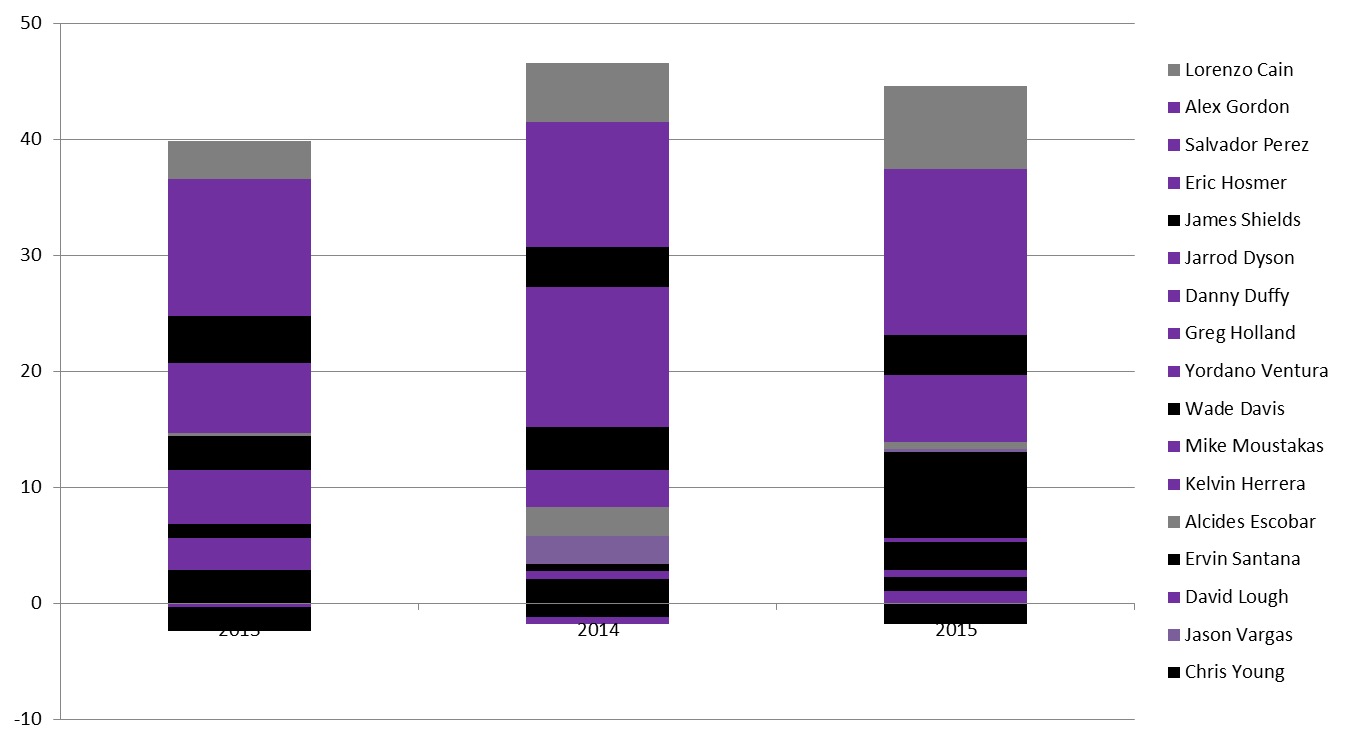 Note: I'm marking Lorenzo Cain and Escobar with grey, because they weren't exactly home grown guys, but they weren't big money free agents, either. I also lowered the threshold for inclusion to at least 1 WAR in a season, or else it would have been a very small chart.
First off, you can see how the contributions have been a little more balanced between home grown and outside guys, and aside from Alex Gordon and Lorenzo Cain, nobody is a dominant contributor.
The biggest obstacle will be how the economics of the game have changed. Resigning Gordon was a huge win this off-season, but I just don't see how Kansas City can compete with the market for all of their stars.
Savvy buy low candidates like Chris Young, Kris Medlen and Edison Volquez will have to make up the difference there.
But, the biggest question is who's coming? The talent has to come from the system.
Are Bubba Starling and Raul Mondesi about to become the Chipper Jones and Andruw Jones building blocks for the next decade? Will Yordano become John Smoltz. Will Kyle Zimmer take Tom Glavine's place?
Rafael Furcal and Marcus Giles weren't high draft picks. Guys like Kevin Millwood were basically average or a touch below save one or two great seasons. Who can catch lighting for a season and keep Kansas City in contention?
A lot can happen with prospects in two years. I don't see a black hole when 2018 rolls around, but there will definitely need to be some surprises.
—
Photo credit: Keith Allison via Foter.com / CC BY-SA