This entry was posted in General, Royal Reactions, Sports.
Let's take a look at who will be turning double plays on the daily this year, once again using the official 40-man roster as our guide, which can be found here.
Note: All posts will follow this general format:
Player Name (linking to the player page on Baseball-Reference.com)
2013 "Slash" line (Batting Average/On-Base Percentage/Slugging Average)
2013 OPS+ or ERA+ and career OPS+ or ERA+ (A full explanation of these stats can be found here and here.)
General gibberish from yours truly about what I find to be interesting about a guy and what might be expected from the player in 2014.
Eric Hosmer
302/353/448
118 / 106
After a promising start to his career in 2011, Hosmer saw a big drop in his production in 2012. 2013 wasn't looking so hot for the Hos, either, after posting an OPS+ of 82 and 84 in the first two months of the season. From June 1 on, though, he hit 318/367/494 and finally showed results to match the hype he had coming through the system.
2014 will be a pivotal year for Hosmer. At 24 years old, he still has room for improvement, and the Royals will need him to be a beast for the whole season and not just the second half if dreams of contention are going to come true.
Omar Infante
318/345/450
113 / 93
Since Infante is new to the team, let's not worry so much about his past history, and instead look at how the Royals have produced at second base the last few years.
Year / OPS+
2013 – 70
2012 – 85
2011 – 80
2010 – 98
So, the keystone has been more like a rock tied to a sinking mob informant since the heady days of Mike Aviles and Alberto Callaspo. This is what's known in the business as a "gaping hole" and Dayton Moore did a good job of noticing an obvious area that needed to be upgraded by signing Infante this offseason.
That said, while turning a negative into a neutral is positive, Infante is not quite Ryne Sandberg with the bat. The Royals have already given Omar the number two spot in the lineup, despite some historical evidence that suggests he should bat lower in the order.
2013           G  PA
Batting 1st    9  46
Batting 2nd    2  10
Batting 5th    1   2
Batting 6th    7  26
Batting 7th   37 148
Batting 8th   32 124
Batting 9th   30 120
Provided by Baseball-Reference.com: View Original Table
The Tigers were probably on to something last year. It's nice to get league-average production from second base, but giving a bottom of the order guy a spot in the top of your lineup is just stupid.
Alcides Escobar
234/259/300
53 / 73
What happens when your batting average on balls in play drops 80 points from one season to the next? For starters, your rate stats plummet. People start to talk about you behind your back. The cool kids snicker when you walk by. You're own mother utters phrases like "boy, you really suck at hitting a baseball."
It's okay, though. These are the kind of growing pains that make you stronger as a person. At least Esky was a demon with the glove last year, and should continue to provide above-average defense in 2014.
As Howard Bender at RotoGraphs points out, Escobar's problems should be fixable, and regression to the mean can bring him back to league average in all categories pretty quickly.
Mike Moustakas
233/287/364
77 / 85
Moose was one of my favorite players when I went to Spring Training last year, but his overall numbers were a disaster for a guy who should be anchoring the line up with Eric Hosmer.
Looking at the charts, you can see how 2013 mirrored 2012 a bit. In 2012, Moustakas started strong and faded as the season went along. Last year, he dug a hole early and while he improved in the second half, it wasn't enough to get him back to sea level.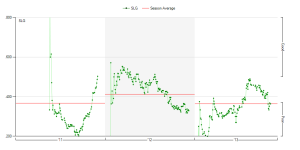 Moustakas played winter ball to work on some things, and the word on the street is that he's in the best shape of his life coming into Spring Training this year, so if nothing else, he might save the team some money on meal allowances. 
The bigger hope is that he can layoff those outside pitches and focus on pulling dingers into the bleachers in Right Field.
Danny Valencia
304/335/553
135 / 94
Valencia was picked up this off-season via a trade with Baltimore. The Royals gave up fan favorite David Lough, who had a good rookie campaign, but had likely hit his ceiling as far as productivity goes.
In terms of offense, Valencia does one thing very well: mash lefties.
I           Split   G   BA  OBP  SLG tOPS+
    vs RHP as RHB 290 .229 .269 .360    76
    vs LHP as RHB 173 .329 .367 .513   146
Provided by Baseball-Reference.com: View Original Table
Defensively, he has played 3rd base and… 3rd base. So, what Valencia really represents is insurance against Mike Moustakas failing to reach his full potential. If Moose is flailing against southpaws, then Valencia can step in and the two of them should be successful as a platoon.