This entry was posted in General, Royal Reactions, Sports.
It's Thursday night in late July, so I thought it might be a good idea to put together some New Year's Resolutions. Well, one resolution, anyway.
I need to write more. I need to set a goal, and I need to feel bad if I don't hit it. So, here is my resolution, and I won't hit this every week, but I'm going to try to make sure I post at least thee times a week.
Here are some of the topics I am going to use to guide this endeavor:
Sports – The Kansas City Royals, really. I'm having too much fun following the team this year to not throw out my two cents every once in a while.
Politics – My politics. There's too much too often in the news, so I'm going to start a new series centered around the idea of what would my platform be if I ran for president. Really, it will just be a way for me to hone my thoughts on different policy matters (For example, I couldn't tell you right now what I think about NAFTA, but I will research it and have an educated opinion to share)
Advertising – I miss agency life a great deal. I'll try to find some kinds of odd or interesting marketing things to discuss from time to time.
Dialogue Drills – Always one of my favorites.
Headlines – Maybe I'll get that gig righting for SNL Weekend Update yet.
Other Stuff – Sometimes, I might write other stuff.
Three posts a week. Keep on me if you don't see them cluttering up your news feeds.
Now, about those streaking Royals…
If the season ended today, the Kansas City Royals would be heading to New York for an epic Wild Card game against the Yankees. (And, they'd be taunting fate if they don't wear their 1980 powder blue road unis.)
What this latest winning streak has done is given Royal Nation a chance to push the thoughts about what this team will really look like in 2018 out of our minds.
Well, most of us, anyway.
Don't ask me about my math, just know that I estimate a team that will generate almost 80% of the Wins Above Replacement (WAR) this current iteration does if Dayton Moore doesn't do a damn thing this winter. You may look at this glorious spreadsheet and dispute my conclusions in the comments.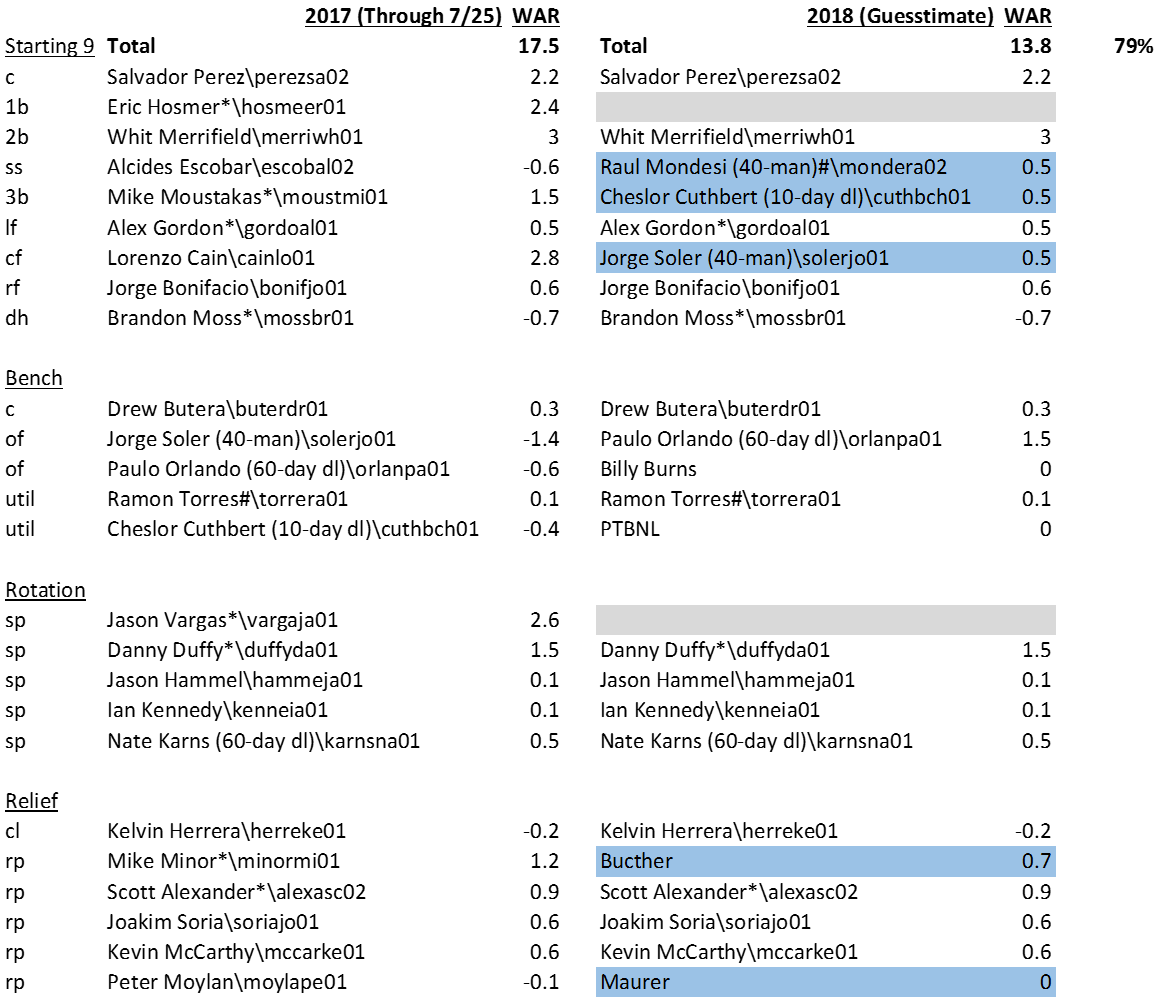 Who's coming back?
For starters, the best player on the hottest team in baseball, Mr. Whit Merrifield, will be back. Maybe it's not a good idea to peg a 28 year old who is having a breakout year to repeat his performance, but he could also be the next Jose Bautista. Stranger things have happened.
Salvy will also be back. It's yet to be seen if he can avoid his traditional second-half swoon, but it will be fun to have him still hacking away for this squad.
Danny Duffy is going to be around, along with Jason Hammel and Ian Keneddy (if he doesn't use his opt-out). There isn't an ace in that group, though Duffman may still rise.
Most of the key relievers will also be back.
Who's gone?
Hoz, LoCain, Moose and Vargy are all going to get paid next off season, and probably by somebody else. I think the Royals will make a good run at one or two of these guys, but the money and time commitment may not make sense. If I could keep one guy, I think it would be Moose. I love Lorenzo Cain dearly, but I don't know how much Tori Hunter DNA he has in him, and injuries have already been an issue in his younger days.
Who is going to step up?
I've allocated a half a win each to Raul Mondesi, Chesler Cuthbert and Jorge Soler. One of those guys will under-perform that number, and the other two may struggle to go over, but they have all shown flashes of talent. (and for Mondesi and Soler the last two months at Omaha, hydrogen bombs).
Somebody has to play first base, and somebody will have to pitch, but you never know where the next one year wonder will come from.
I'm cautiously optimistic about acceptable mediocrity in 2018, which is way better than the apocalypse.
Photo credit: Keith Allison via Foter.com / CC BY-SA